Privacy Policy
Privacy Statement & Other Legal Information
Effective March 2020
The owner of this website is teaRIOT, LLC. (or "we"), which can be contacted via the following PO Box: 578 Washington Blvd #855 Marina Del Rey CA 90292. The term "you" refers to the viewer of this website.
We hope you will enjoy drinking teaRIOT and visit this website often. However, if you browse and use this website, you agree to the following terms and conditions. If you do not agree, you should not use this website. The teaRIOT brand and reputation are built on a foundation of trust. This Privacy Policy ("Policy") describes how teaRIOT collects, uses and discloses personal information of customers through our websites and online services, including teaRIOT.com and other teaRIOT owned or operated online services that link to this policy (collectively, the "Sites"), through our programs ("Services"). This Policy does not apply to websites and services that display or link to different privacy statements. Websites and services co-branded with other partners may display or link to a joint privacy statement or separate privacy statements of our partners in addition to our Policy.
INFORMATION FOR PARENTS ABOUT OUR PRIVACY POLICY
Our website policy is that visitors under 18 years of age should not submit or post any information on our website.
WEBSITE USE AND COPYRIGHT NOTICE
The information contained on our website is provided AS IS, and without any express or implied warranty of any kind. We may change the information anytime, and you understand and acknowledge that it could contain inaccuracies or errors. We try to keep your website running well, but do not warrant or guarantee its proper operation. You use this information and this website entirely at your own risk. This website contains our intellectual property. teaRIOT, LLC is the exclusive owner of teaRIOT trademarks, service marks, copyrights, logos, trade dress and other identifiers or intellectual property. You shall not use any of these trademarks or other teaRIOT intellectual property without our express written permission. You also shall not, without our express written permission, copy, modify, upload, publish, post or otherwise distribute the graphic displays or text, which are our exclusive property.
LIMITATION OF LIABILITY
We are not, and shall not be, liable for any damage or injury caused by any failure of performance, error, omission, delay in operation of transmission, computer virus, or line failure, or any other events. We have no liability for any damages or injury, including but not limited to, special or consequential damages that result from the use of, or the inability to use, this website and/or the information it contains. The above limitation or exclusion may not apply to you to the extent that applicable law may not allow the limitation or exclusion of liability for incidental or consequential damages.
How to Send a Notice of Copyright Infringement
In you are a copyright owner (or the owner's authorized agent) and have a good-faith belief that material on our website infringes one of your copyrights, you may notify us using this procedure. In order for us to process your notice of copyright infringement, it must be sent to the agent designated below and must include the information specified below. When we receive a notice under this procedure, we will expeditiously remove or disable access to the material that is claimed to be infringing or to be the subject to our completing our investigation into any such claims.
Send your notice of infringement to our designated agent for receiving such notices to teaRIOT CEO. Notification should be sent to 578 Washington Blvd #855 Marina Del Rey CA 90292
Do not send any inquiries unrelated to copyright infringement (e.g., Requests for technical assistance or customer service, reports or e-mail abuse, etc.) to the contact listed above. You will not receive a response if sent to that contact.
1. What information do we collect?
We collect information from you when you subscribe to our newsletter or fill out a form.
When ordering or registering on our site, as appropriate, you may be asked to enter your: name phone number or e-mail address. You may, however, visit our site anonymously.
2. What do we use your information for?
Any of the information we collect from you may be used in one of the following ways:
To improve our website
(we continually strive to improve our website offerings based on the information and feedback we receive from you)
To improve customer service
(your information helps us to more effectively respond to your customer service requests and support needs)
To administer a contest, promotion, survey or other site feature
To send periodic emails or text based messages
The email address or phone number you provide may be used to send you information, respond to inquiries, and/or other requests or questions.
3. How do we protect your information?
We implement a variety of security measures to maintain the safety of your personal information when you enter, submit, or access your personal information.
4. Do we disclose any information to outside parties?
We do not sell, trade, or otherwise transfer to outside parties your personally identifiable information. This does not include trusted third parties who assist us in operating our website, conducting our business, or servicing you, so long as those parties agree to keep this information confidential. We may also release your information when we believe release is appropriate to comply with the law, enforce our site policies, or protect ours or others rights, property, or safety. However, non-personally identifiable visitor information may be provided to other parties for marketing, advertising, or other uses.
5. California Online Privacy Protection Act Compliance
Because we value your privacy we have taken the necessary precautions to be in compliance with the California Online Privacy Protection Act. We therefore will not distribute your personal information to outside parties without your consent.
6. Your Consent
By using our site, you consent to our online privacy policy.
7. Changes to our Privacy Policy
If we decide to change our privacy policy, we will post those changes on this page.
8. Contacting Us
If there are any questions regarding this privacy policy you may contact us by emailing Rioteers@teaRIOT.com or mailing a letter to 578 Washington Blvd. #855 Marina del Rey CA 90292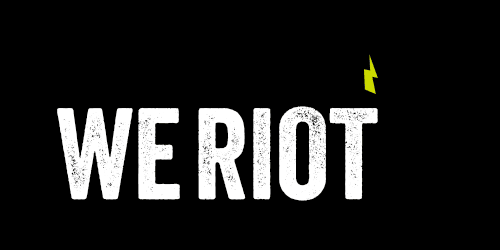 RIOT ON
We are Laura and Steve, a power couple from the ground up. As consumers and founders, we are here to overthrow big energy and give consumers what they are demanding - real, simple, and effective ingredients. What started off as a simple question for us became our purpose. We believe people are being underserved with sugary, chemical combos. That's how it started, so we went ALL IN towards creating a daily energy drink that delivers the same energy level as traditional energy drinks from radically better, refreshingly tasty, 100% plant-powered ingredients.
We RIOT. For those who go All In, making every moment count. Intent and action are inseparable. Arrive ready to defy expectations, never settling for simply checking the box. We power-charge you to go All Out. For the cause. For the moments. For the long haul. For what matters most. With real energy powered by 100% plants. Zero added sugar. Zero empty promises. Because all of it matters. What you put in is exactly what you get out. Quit the Chemicals. Demand Better Energy